Christian Associates of Southwest Pennsylvania Publishes "Peace, Be Still!" Gender Violence Prevention Resource
Christian Associates of Southwest Pennsylvania has published a resource for clergy to help congregations engage the issues of domestic violence and sexual assault. "Peace, Be Still!." a twelve-page booklet available now in print and online encourages churches to participate in the Father's Day Pledge a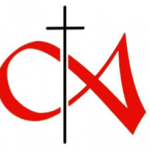 gainst gender violence this Father's Day, Sunday, June 21.
The booklet is part of the "Southwest PA Says No More" initiative, a community collaboration led by the FISA Foundation. Thousands of people are expected to participate in this year's Father's Day Pledge, an effort that enlists men to speak out against gender violence.
"Peace, Be Still!" includes liturgies and sermon starters written by clergy and faith leaders from five different Christian traditions. It also contains reproducible bulletin inserts, ideas for further engagement, and resources for referral.
The resource is available for download. Print copies in full color are available at no charge by calling Christian Associates at 412-688-9070.
"All parts of the community must work together to defeat gender violence," said Christian Associates Executive Minister, Rev. Liddy Barlow. "As the moral center of our communities, houses of worship must strongly condemn domestic violence and sexual assault, and offer concrete strategies for change."